-
Successful Affiliate Marketers
I've been online since 1995 and enjoy how the Internet has made things so much easier in starting a business or promoting others products and programs through affiliate marketing.
- 
Did you know that affiliate marketing can be a relatively easy way to make a living online?  However, just like any business model there are certain qualities that you need to have to be successful affiliate marketers. There are those who make a killing in affiliate marketing and those that fall by the wayside, making just a few dollars here and there.  While it doesn't take or require a diploma, over the past 15 years I have learned and continue to learn so much about online marketing and making money online that your experience will take you far.-
Here are five quality tips that make all the difference between someone that makes money "by accident" and those who become very successful and might even be considered a "super affiliate".
-
Quality Tip #1: Get Organized
This may sound like a common sense quality to possess, but I am amazed at how just tweaking this one quality can make a huge change in your business.  In order to have any successful marketing endeavor, you need to start with a good plan.
It's true what they say about failing to plan equaling planning to fail. Before you begin thinking about and selecting your niche, you need to have a clear outcome visualized. Everything you do will depend on this goal and will help you work your way toward it.
While having a clear, organized plan there are other things that need to be organized as well. Any time you work for yourself, your finances have to be in order. If you're managing multiple affiliates yourself, you need to keep that information secure. All of the affiliate information, links and data that you might need should be easy to get to at a moment's notice.
-
Quality Tip #2: Be Consistent
This is probably the hardest lesson I learned while marketing online.  Today, there are so many different strategies and techniques for marketing online but all of them require one thing …. consistency.
Publishing and syndicating to social sites for backlinks needs to be done on a consistent basis. For me, I am finding tremendous success by blogging daily on my Empower Network blog.
To run a successful blog means writing on a regular basis because your readers will be expecting it. Syndicating your posts will amplify your visibility, create a buzz and get more visitors to your site.  Once you choose the strategies you'll use, get into a routine of doing them and stay consistent.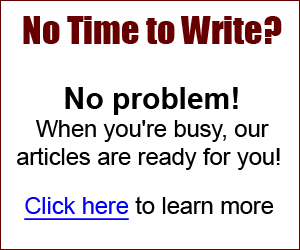 Quality Tip #3: Be Selective
There are a vast array of products and programs that seem to be bursting at the seams on the Internet.  Every time you check your email you probably get a healthy heap of people wanting you to either buy their products or promote them as an affiliate.
But guess what?  When affiliate marketers take on so many products it spreads themselves too thin and you end up not get anywhere. You have many interests and you'd like to launch an empire of websites to maximize your revenue. But successful affiliate and online marketers don't try to do everything at once.
The best strategy is to focus in and start with what you most want to do right now. Get it going, and once you're starting to see a steady profit with that endeavor, start the next one. Fight back the 'shiny object syndrome' and promote one or two products at first.  You will soon see that the one benefit of this approach is that you'll learn from the mistakes you made on the first campaign and you'll know to avoid these mistakes with your others.
- 
Quality Tip #4: Show Your Personality
The most successful affiliate marketers and online businesses are those that can relate and engage with their audience.
Online and affiliate marketing is all about taking the time in building personal relationships and good connections with potential prospects.  The biggest mistake I see new online marketers make, is trying to be someone else.  They 'fake it to make it' however, most people can see right through that.
It is so important to be yourself and make a real connection with your audience. This is the difference between marketers that have a loyal tribe-like fan base and those that have to start from scratch for each new marketing campaign. Don't be afraid to get personal, be real and make those connections and start seeing results.
-
Quality Tip #5: Stay Focused
As I mentioned above, the Internet is full of shiny objects that can lead you astray from your goals.  These are huge distractions that suck up your time and energy.  If you want to be a highly successful affiliate or only marketer, then put your blinders on!
You should have one goal in mind and never lose sight of that.  Sure, we are all human, so you may find yourself venturing off your path every now and then.  But as long as you realize it quickly and get back to your focus will you then start seeing results from your efforts on a regular basis.
-
If you have been considering affiliate marketing or maybe you are a little stuck in your marketing efforts, I hope that these 5 quality tips will get you back on top and getting results you want.
Even if you are a new to online marketing, you can still make it as an affiliate marketer.  All of these qualities are things that can be learned if you're motivated, determined and devoted.  Follow and study other highly successful affiliate marketers and online marketers.  Take note how they do it, and apply those methods in your own way to achieve success each and every day.
-
Time to make it happen…. Empower your Success!

Empower Network offers world class marketing, business and life training from people who walk their talk and get results with what they teach.
We also host one of the Internet's largest publishing platforms and content networks for bloggers and content marketers.
And we have an affiliate program for marketers that pays YOU epic 100% commissions!
Are you "ALL IN" yet?